DearShareholders of Siam Steel International Public Company Limited,

In the second half of the year 2015, the Company has still been affected from the economic downturn and several risk factors both domestic and international. This was resulted from the decrease of purchasing power and investment slowdown in the industrial sector.

Although the Company has encountered such factors and various difficulties, but with the operating under the strategy and carefully management, as well as the cooperation frompersonnel in every departmentof the Companywhohave been committed to work in full capacity, push forward the Company's business to be stable and sustainable growth.This was resulted to the Company's business in the second half of the year 2015 has performed better than last year, but still lower than the defined plan.

Throughout the past year, the Company has operated under the strategyto move forwards to sustainable growth with the focus onmanagement efficiently, adherence tomoralandethical principlesof social responsibility and environmental awarenesswhich are the principle forthe managements and all staffs to carry on.Also the cost reduction in every process and products development to meetconsumers' needs have been implemented. The business expansion and diversification into new business of renewable energy are to reduce the business risk, as well as human resources and organization development have been performed continuously to bestrengthen the foundation and prepare to confront with various situations for all time, including to support the economic recovery and the intent competition both domestic and foreign in next year.

May we take this opportunity to express our sincere thanks to the Board of Directors, the Management, and all staff of the Company in working hard to achieve the Company's target.We are also appreciatedand thank you to our customers, as well as our business partners in supporting the Company for all along. The most importantis to thank you all of our shareholders for the trust and confidence given to the Company for the commitment to sustainablegrowth. We look forwards to receiving your support continuously in the future.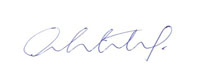 (Mr. Wanchai Kunanantakul)
The President