DearShareholders of Siam Steel International Public Company Limited,

The economic situation in Thailand over the past year (2017) improved in line with the economic recovery of large countries like the United States of America, European Union and Japan, which resulted in continuous export expansion. On the contrary, the purchasing power in Thailand has not improved when compared with the other countries'. The investment deceleration and severe business competition caused the impact on the unexpected turnover of the Company's business operation.

Above all, the Company's Board of Directors and Executives have strong intentions and commitment in growing the organization with sustainable development principles in the operation of the business which would emphasize good morals, ethics and responsibilities toward all interested persons, society and the environment, managing risks with close observation in all aspects to prevent any negative impact, efficiently managing all variable matters or situations both in and outside the organization as well as developing a dissemination plan expanding towards the marketing activities and policies in efficient cost management at all stages. The Company is confident that these aforesaid measurements would more or less create a positive impact in the coming year operation

It is speculated on an increase of investment in both government and private sectors in the year 2018. Other than construction of the communication infrastructure of government sector projects, there will also be an increase of foreign investments in the Eastern Economic Corridor (EEC) and e-commerce business and the Company is assured an impact on an extensive demand of the Company's products, such as, furniture, bathroom pods and civil engineering projects.

On behalf of the Company's Board of Directors, executives and staff members, I would like to thank all of the shareholders including customers, trading partners, patrons, people, both governmental and private agencies for your trust and good support as always. I would like to confirm that the Company will commit to maintain business ethics, good governance and corporate governance in order to be a company of sustainable growth and of value towards the society and country.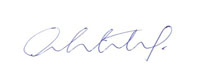 (Mr. Wanchai Kunanantakul)
The President