Dear Shareholders of Siam Steel International Public Company Limited,

In 2022 is another year, which there are many troubles for the Company's business operations both of energy situation and inflation that affects to the increased costs. Although the Coronavirus disease pandemic (COVID-19) is better, there are relaxation from the government measures as well as the private consumption and the tourists are recovered. Moreover, the Company also protect their turnovers better than in 2021 because of management planning under the change and strategic adjustment to the situations e.g. review the operation plan with risk analysis and continuous impact; review target, sales strategy that should be conformed over the periods; product development to meet the various target customers, together with the unnecessary cost control carefully; adjust the working procedures be more flexible as well as supervise effect on the stakeholders and environments.

In 2023, the Company will step up to the 70th years since Sri Charoen shop was established in 1953. So, this year is important and challenged to operate the business that the target will be continuous sustainable growth. As the domestic factors affect to be increased cost such as cost of electricity, wage, and rising interest rates. Whereas the increased competitors in market are against the revenues, the commercial structure changes after the COVID-19 crisis affect to the business operations and Thais in everyday life directly. The Company will review and bring business development for the corporate sustainability development to drive the sustainable business clearly in 2023.

From the business operation determination through the challenges and crisis more 70 years, on behalf of the Company's Board of Directors and Executives, I would like to express my sincere appreciation to thank all of the shareholders, investors, partners, customers, community, and staff members for your trust, confidence, support, and good cooperation as always. I would like to ensure that the Company will commit to keep moving organization development step by adhering to the good governance, corporate governance, and all stakeholders regard in order to the constant growth for sustainable environment and society forever.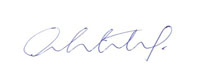 (Mr. Wanchai Kunanantakul)
The Chairman